Secure new technology and strengthen technological competitiveness
through continuous R&D investment
JNTC succeeded in mass production of 3D cover glass for the first time in the world in 2014, and heralded the advent of edge smartphones to the world by exclusively supplying it to Samsung Electronics' first edge phone, Note 4. After that, the application of 3D cover glass to the worldwide edge phone design trend began in earnest, and a double-sided edge, large area bezel-less 3D design smartphone was released. Based on this, JNTC has been changing the paradigm of the smartphone market by providing differentiated value to customers around the world.

Following the commercialization of 5G in 2019, the world's first keyless 3D cover glass without left and right button keys of existing smartphones has been developed and supplied exclusively, and we have secured leading technology for ultra-thin glass for foldables, stretchables, and rollables based on advanced technology of high-performance, high-spec thin-film glass. In 2020, we are planning to enter the global market by developing and commercializing the world's first integrated 3D cover glass for automobiles.

As the global smartphone market trend demands high-capacity high-speed signal transmission and waterproofing, the connector market is also growing. JNTC developed high-functional connectors such as 5G, C-TYPE, and waterproof in 2016 and has expanded the scope of supply to 5G phones.
In addition, we mass-produced camera windows for smartphones in 2017, and since 2018 we have expanded the scope to multi cameras in line with the improvement of the camera function for smartphones.
We have been launching global No.1 products.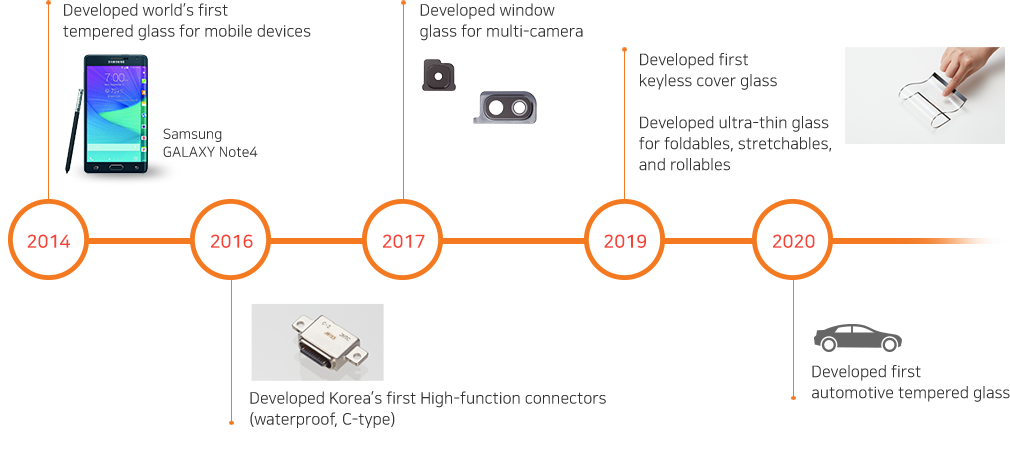 R&D Projects
Year
R&D Project
R&D Result
Application
2020

DP173 Project

Developed Huawei-type 6.6 inch Smartphone Black Main Window
2-bending 3D Cover Main Window
Direct PAD printing

New

3D cover glass

2019

DP150 Project

Developed Huawei-type 6.4 inch Smartphone Black Main Window
4-bending 3D Cover Main Window
Direct PAD printing

Huawei (P40Pro)

cover glass

2019

DP116 Project

Developed Huawei-type 6.4 inch Smartphone Black Main Window
2-bending 3D Keyless Main Window
Direct PAD printing

Huawei (mate 30 Pro)

cover glass

2018

Storm Project

Developed LGE-type 6.4 inch Smartphone Black Main Window
4-bending 3D Cover Window and Direct PAD Printing

LG (V40)

cover glass

2018

DP076 Project

Developed Huawei-type 6.2 inch Smartphone Black Main Window
4-bending 3D Cover Window
Direct PAD Printing

Huawei (MATE 20 PRO)

cover glass

2017

Automotive

3D integrated CG Project

Secured Etching Type AG technology
Secured large-size heat forming technology
Established non-polish heat forming conditions
Secured Curved silk print equipment and technology
Secured 3D Curved shape AR/AF coating technology
Secured 3D Curved shape washing technology

Cluster + CID

integrated 3D cover glass

2017

Taimen Project

Developed LGD-type 5.99 inch Smartphone Black Main Window
4-bending 3D Cover Window
Direct PAD Printing

Google

cover glass

2017

S-Con Project

Developed SDC-type 5.66 inch Automotive Black Window
Anti Glare 2D Glass

Audi

Automotive cover glass prototype

2016

G8918A Project

Developed SDC-type 5.7 inch Smartphone Black Main Window
2-bending 3D Cover Window

Chinese-type

Mobile cover glass mass-production

2016

Noble CAM Project

Developed SEC-type 0.5 inch Smartphone Black Camera Window
Camera widow glass working process
AR(Anti Reflection) coated

Galaxy Note

camera window mass-production
Year
R&D Project
R&D Result
Application
2018

USB Type C 3.1

internal/external
waterproof Socket

IPX8 Waterproof(1.5 meter WP)
MIM SHELL structure (for waterproof and better stiffness)
O-RING (external waterproof)
USB TYPE-C 3.1 (24P)
Higher corrosion and abrasion resistance

2018

Waterproof EAR JACK

(FPCB all-in-one)

IPX8 Waterproof (1.5 meter WP)
Heat cured potting

G7 & CV Series

2017

Nano SIM Socket

Nano SIM Card Socket
Removable SIM Card Tray (Pin Pusher)
Card Detect structure

Galaxy A Series

2017

Camera Socket

24P Camera Socket (On Board)
20P Camera Socket (PCB Cut)

Galaxy J Series

2016

Micro USB 5P Plug

Charger, DLC

2016

USB Type C 3.1

Internal waterproof Socket

Waterproof (IPX8)
First application of USB TYPE C ITEM
MIM SHELL structure (for waterproof and better stiffness)
SHIELD structure for SMD
SCREW clamping

Galaxy S, Note

2016

USB Type B

Waterproof Socket

Waterproof (IPX8)
MIM SHELL structure (for waterproof and better stiffness)
Micro USB 2.0 compatible
SCREW clamping

Galaxy S